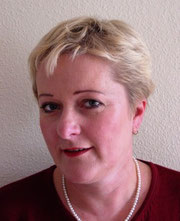 Vera Loos
Painter, Translator 
Studies of linguistic sciences at Nantes University (France) and Saarland University,
history of arts, Saarland University,
instructions in painting by Tina Stein and evening classes at HBK (School of Fin Arts Saar)

My artistic attitude I would describe as narrative. I do not reveal a structured scenarios of images forming a story. Instead I place beings in a luminous context to unleash a stream of speculations in the viewer. My figures are isolated and not grounded in a sense of place. Due to their uniformity and typicality, they are replaceable. The figures are not really tangible and invite the viewer to consider their mental state. The pictures' titles are sometimes from literature, mostly from the oeuvre of Hanoch Levin, my favorite author. They come into my mind while painting and thus reflect the reactions they provoke in me. It is not happenstance that my suited business men seem to be vulnerable or even wounded. A friend of mine described them as lonely banker, a title I am pleased to apply.